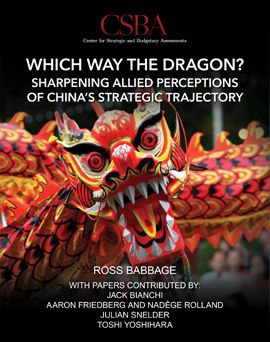 Washington, DC, August 15, 2020 – Given the rapid pace of change in Asia during the last 20 years, assessing China's longer-term trajectory represents a huge challenge for allied security planners. Despite the geostrategic disruptions of the 21st century thus far, Western policymakers continue to rely upon the same periodic defense assessment principles that were practiced during the relatively stable Cold War period. The policies that result must frequently be revised, often at great cost, in the face of frequent economic, political, and technological upheavals in Asia.
In the Center for Strategic and Budgetary Assessments' latest report, Which Way the Dragon?, CSBA Non-Resident Senior Fellow Dr. Ross Babbage, a former senior defense planner for the Australian government, and several noted regional scholars argue for an innovative, scenario-based approach to China's future and Western security planning in the Indo-Pacific. The authors assess current conditions in the world's most dynamic region and outline several alternative future scenarios to serve as strategic guideposts over the next 15 years. Each outcome identifies leading indicators to help identify promptly which future path China is taking and facilitate adroit adjustments to planning and investments. The end result reduces the uncertainties facing policymakers in real time, offering a better way to confront the challenges facing the Western allies and their partners.
According to CSBA President and CEO Dr. Thomas G. Mahnken, "Ross Babbage is one of the world's foremost experts on China's strategy, with numerous works pioneering the study of hybrid warfare, information operations, and other emerging forms of strategic competition. In Which Way the Dragon?, Dr. Babbage and a world class team of scholars offer real-world enhancements to our thinking about defense planning in a period of heightened tension and uncertainty in the Indo-Pacific."
CSBA will host an event launching the report on Wednesday, September 9, 2020, 5:00 PM EDT via Zoom. Please register for the event.
ABOUT THE CENTER FOR STRATEGIC AND BUDGETARY ASSESSMENTS
CSBA is an independent, nonpartisan policy research institute established to promote innovative thinking and debate about national security strategy and investment options. CSBA's assessments focus on key questions related to existing and emerging threats to U.S. national security, and its goal is to enable policymakers to make informed decisions on matters of strategy, security policy, and resource allocation.
Media Contact: William Bodie, 202-719-1358