In 2019, we launched the CSBA Council, an advisory board composed of accomplished individuals whose interests in contemporary security debates coincide with CSBA's mission. The CSBA Council will further the institute's efforts to develop innovative, resource-informed defense concepts, promote public debate, and spur policies to advance the interests of the United States and its allies. The Council meets regularly with senior management, participates in efforts to promote CSBA and its work, and engages with our team to promote fresh thinking in national strategy and nurture the next generation of defense leaders.
Sid Ashworth
Council Member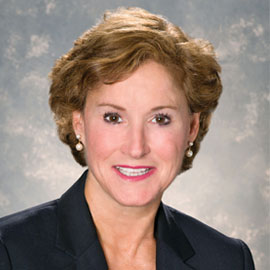 Sid Ashworth serves on the Executive Committee of the National Defense Industrial Association, the Board of the National Military Family Association, and is a Trustee of the U.S. Air Force Academy Falcon Foundation. Previously she served as corporate vice president of government relations for Northrop Grumman Corporation, and vice president of Washington Operations for GE Aviation. Prior to joining GE Aviation, she was principal of the Ashworth Group.
Ms. Ashworth service for 14 years as a professional staff member with the U.S. Senate Committee on Appropriations. She also served as the staff director of the Defense Subcommittee and the Military Construction Subcommittee on Appropriations. During her tenure with the Defense Subcommittee, she was responsible for formulating funding and legislation recommendations for defense and intelligence spending in excess of $600 billion annually. She also worked as a civilian in the Department of the Army, focused on resource management, force structure, and strategy. She served as a Special Advisor to the Commanding General, U.S. Army Pacific and held several senior analyst positions with Eighth U.S. Army and U.S. Forces Korea.
She is a Senior Adviser with the Center for Strategic and International Studies, has served as an adjunct professor at the University of Maryland, and has lectured at Indiana University, The Brookings Institution, and Georgetown University. Ms. Ashworth was Senior Executive Fellow at Harvard University's JFK School of Government.
Ms. Ashworth earned her MBA from Campbell University a bachelor's degree in management from the University of Maryland, and was a Senior Executive Fellow at the John F. Kennedy School of Government, Harvard University.
Philip Breedlove
Council Member
Christian Brose
Council Member
Jonathan Burks
Council Member
Lisa Disbrow
Council Member
Tina Jonas
Council Member
Paul Lettow
Council Member
Vance Serchuk
Council Member
Mitchell Shivers
Council Member
Roger Zakheim
Council Member