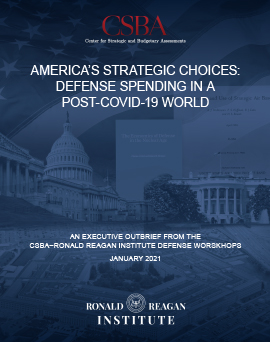 This report summarizes the findings of two Strategic Choices Exercises hosted by The Ronald Reagan Institute and CSBA in October 2020, convening a bipartisan group of senior defense and budget experts, current and former policy makers, and industry leaders. The initiative was supported by the National Defense Industrial Association.
Using CSBA's Strategic Choices Tool, an interactive decision-making model that enables users to make changes to the defense budget, participants proposed fiscally-constrained adjustments to U.S. defense strategy and military forces over a 10-year window. They assessed two budgetary scenarios: an annual real 3% increase in defense spending and an immediate 10% cut.
The exercises found that the 10% cut scenario would have devastating consequences for defense strategy and capabilities. Teams had to make large-scale cuts to personnel, force structure, and modernization that have heretofore proven to be politically unpalatable.
"Even as rising deficits and the economic struggles imposed by COVID-19 place downward pressure on the defense budget, the threats the nation faces continue to increase," said Roger Zakheim, Director of the Ronald Reagan Institute. "This exercise should be viewed as a dose of reality for policymakers examining the potential impact of defense cuts. The United States cannot build and maintain the military it needs to defend against the threats of today and tomorrow if we see a major reduction in its budget."
"CSBA developed its Strategic Choices Tool, which features more than a thousand discrete sets of fully-costed defense capabilities, to allow users to consider the real-world, long-term consequences of various defense budgetary choices," said CSBA President and CEO Dr. Thomas G. Mahnken. "Our participants were forced to make hard decisions regarding U.S. military forces and strategy, which in this exercise often yielded heroic assumptions or sobering assessments of risk."