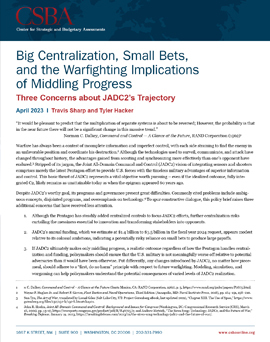 Warfare has always been a contest of incomplete information and imperfect control, with each side straining to find the enemy in an unfavorable position and coordinate his destruction. Although the technologies used to surveil, communicate, and attack have changed throughout history, the advantages gained from scouting and synchronizing more effectively than one's opponent have endured. Stripped of its jargon, the Joint All-Domain Command and Control (JADC2) vision of integrating sensors and shooters comprises merely the latest Pentagon effort to provide U.S. forces with the timeless military advantages of superior information and control. This basic thrust of JADC2 represents a vital objective worth pursuing – even if the idealized outcome, fully integrated C2, likely remains as unattainable today as when the epigram appeared 60 years ago.
Despite JADC2's worthy goal, its programs and governance present great difficulties. Commonly cited problems include ambiguous concepts, disjointed programs, and overemphasis on technology. To spur constructive dialogue, this policy brief raises three additional concerns that have received less attention.
Although the Pentagon has steadily added centralized controls to focus JADC2 efforts, further centralization risks curtailing the messiness essential to innovation and transforming stakeholders into opponents.
JADC2's annual funding, which we estimate at $1.4 billion to $3.5 billion in the fiscal year 2024 request, appears modest relative to its colossal ambitions, indicating a potentially risky reliance on small bets to produce large payoffs.
If JADC2 ultimately makes only middling progress, a realistic outcome regardless of how the Pentagon handles centralization and funding, policymakers should ensure that the U.S. military is not meaningfully worse off relative to potential adversaries than it would have been otherwise. Put differently, any changes introduced by JADC2, no matter how piecemeal, should adhere to a "first, do no harm" principle with respect to future warfighting. Modeling, simulation, and wargaming can help policymakers understand the potential consequences of varied levels of JADC2 realization.