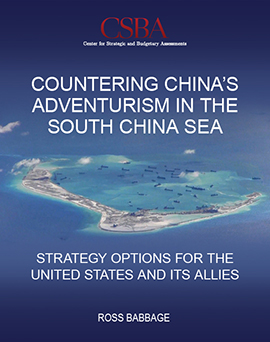 What should the U.S. and its close allies do about China's strategic expansion into the South China Sea?
Beijing now has overwhelming military, coast guard and maritime militia forces in this theatre and it has seized numerous reefs and dredged up new islands in operations that that the U.N.'s Permanent Court of Arbitration has determined are illegal. Major military installations are being built in several locations. Three of these new islands, towards the middle of the South China Sea, will soon be capable of housing regiments of fighter-bomber aircraft and also of supporting sustained operations of significant numbers of ships. The rapidly changing strategic balance in Southeast Asia and the Western allies' flat-footed response is encouraging several regional states to re-evaluate their long-standing security relationships.
This report argues that it is time for the U.S. and its close allies to clarify their goals in this theatre and develop a coherent strategy to counter China's expansionist operations. It describes a surprisingly broad range of strategy and operational options that are potentially available for the Trump administration to pressure Beijing to moderate its behaviour, retrace some of its steps and deter the Chinese leadership from embarking on new, potentially more dangerous adventures.