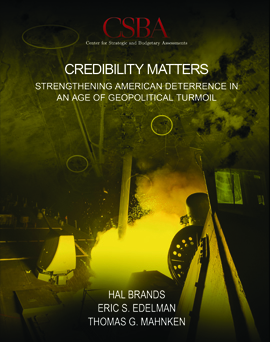 Credibility -- the degree to which an actor's threats and promises are believed by other actors in the international system--is an inherently intangible concept. Yet American credibility is nonetheless crucial to the stability of an international system that ultimately rests on U.S. alliance commitments and security guarantees.
If American credibility is strong, then adversaries will be deterred, allies will be reassured, and relative geopolitical stability will prevail. If American credibility is weak, then adversaries will be emboldened, allies will be unnerved, and geopolitical revisionism and aggression will proliferate.
Today, America confronts a deepening crisis of credibility in global affairs, due to the military buildups and revisionist strategies being pursued by U.S. adversaries--and no less to the missteps of the United States itself. This report outlines a multi-pronged agenda for shoring up the credibility on which so much of U.S. foreign policy and the international order depends.