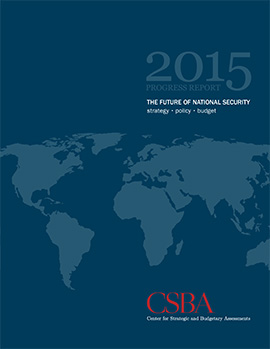 Strategy Policy Budget
The Center for Strategic and Budgetary Assessments began its analytic work in 1983 as the Defense Budget Project. Its mission was to fulfill an urgent need for research and information on defense policy and budget issues. Within a decade it was recognized as a leading authority on the analysis of defense policies and budgets. CSBA experts have worked to analyze U.S. defense strategy, force structure and planning, and defense budgets in the effort to reconcile these interrelated subjects and inform on them, contributing extensively to the Revolution on Military Affairs debate, the development of an AirSea battle concept, and discussions on the strategic choices necessary for the transformation and modernization of the U.S. military in the face of sequestration. CSBA remains instrumental in guiding the nation's most critical defense policy debates as a small, powerful group comprising experts with extensive experience in the field of national security—many of them military veterans and former senior level policy makers from the Department of Defense, State Department, and the National Security Council—supported by a dedicated staff of accomplished executives and scholars.
CSBA's mission today is to promote innovative thinking and debate about national security strategy, defense planning, and military investments, and to enable policymakers to make informed decisions regarding strategy, security policy, and resource allocation.