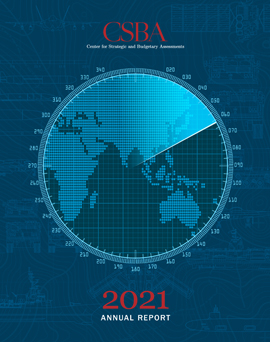 The Center for Strategic and Budgetary Assessments (CSBA) is an independent, non-partisan, non-profit public policy research institute established to promote innovative thinking and debate about national security strategy, defense planning, and military investment options for the 21st century.
CSBA's mission is to develop innovative, resource-informed defense concepts, promote public debate, and spur action to advance U.S. and allied interests. Our vision is to set the terms of debate for the future of national defense and drive change in concept development, force structure, and resources to prepare the United States and its allies to compete and win in an era characterized by great power competition and conflict.
For nearly three decades, the Center for Strategic and Budgetary Assessments has provided consistent, high-quality, and innovative research on defense strategy, budgets, and the security environment. With notable alumni, CSBA experts have worked to analyze U.S. defense strategy, force structure, and planning, and defense budgets in the effort to reconcile these interrelated subjects, contributing extensively to the Revolution in Military Affairs debate, linkages between contemporary strategy and innovation, discussions on the strategic choices necessary for the transformation and modernization of the U.S. military in the face of limited resources, and the defense strategy and operational concepts needed for an era marked by great power competition and the possibility of great power war.
Under the leadership of Dr. Thomas G. Mahnken since 2016, CSBA remains instrumental in guiding the nation's most critical defense policy debates as a small but powerful group comprising experts with extensive experience in the field of national security— many of them military veterans and former senior-level policymakers from the Department of Defense, State Department, and the National Security Council—supported by a dedicated staff of accomplished executives and scholars.