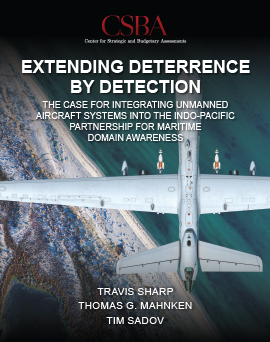 In May 2022, the "Quad" nations — the United States, Australia, Japan, and India — announced the creation of the Indo-Pacific Partnership for Maritime Domain Awareness (IPMDA) to monitor illegal fishing, humanitarian crises, maritime security, marine conservation, and related issues in the region. IPMDA's most significant activity involves disseminating unclassified data collected by commercial satellites to improve the common operating picture of participating nations and bolster information sharing across regional fusion centers, including in India, Singapore, the Solomon Islands, and Vanuatu.
In Extending Deterrence by Detection, authors Travis Sharp, Thomas G. Mahnken, and Tim Sadov argue that providing IPMDA with a small fleet of unmanned aerial systems (UAS) would bolster the quality and quantity of intelligence it produces. Moreover, integrating UAS into IPMDA would improve both peacetime and potential wartime surveillance of the South China Sea, where China has concentrated the bulk of its antagonistic maritime activities.
Crucially, the author's analysis provides a framework for assessing the value of long-endurance UAS operations, including measuring ISR collection importance in the region and optimal flight paths for UAS operating from Guam or the Philippines. This report includes the methodology used to establish the framework and plot the optimal flight paths, offering applications in the South China Sea and beyond. Using this framework, the authors conclude that in the short term, IPMDA could utilize contractor-owned, contractor-operated (COCO) aircraft to provide significant ISR value relative to its cost, especially if the Quad splits the bill among its member countries and/or with partners in the Indo-Pacific region.