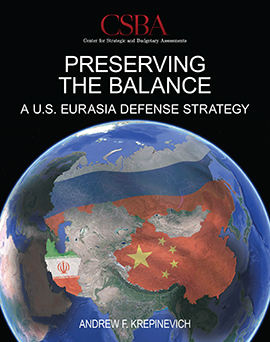 Now more than ever, the United States needs to formulate an effective defense strategy to preserve U.S. interests in a strategic environment characterized by looming international and domestic challenges.
CSBA Distinguished Senior Fellow and President Emeritus Dr. Andrew Krepinevich's Preserving the Balance: A Eurasia Defense Strategy focuses on the United States' long-standing interest in preventing the rise of a hegemonic power on the Eurasian land mass capable of dominating its human, technical and material resources. Such a development would represent a major threat to U.S. national security. With this core interest in mind, the strategy presented in this paper calls for major changes in the U.S. defense posture. Among them: shifting to more of a forward defense posture; according top priority, in deed as well as word, to the Western Pacific Theater; taking on greater risk in the European and Middle East theaters than has been the case since the Cold War's end; developing a competency in the ability to compete based on time; emphasizing new concepts of operation and a different division of labor between the United States and its allies; and last, but far from least, according high priority to the social dimension of strategy, to include developing and advancing persuasive strategic narratives to the American people, the citizens of allies and prospective strategic partners, and the revisionist powers' populations.
This paper is the first in a series of papers that CSBA will be releasing in coming weeks. Upcoming reports will include strategies tailored to Europe, Asia and the Middle East.