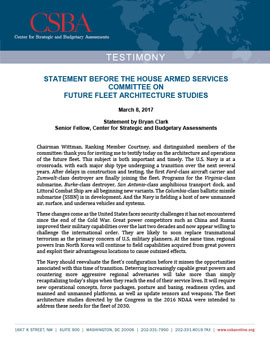 Chairman Wittman, Ranking Member Courtney, and distinguished members of the committee: thank you for inviting me to testify today on the architecture and operations of the future fleet. This subject is both important and timely. The U.S. Navy is at a crossroads, with each major ship type undergoing a transition over the next several years. After delays in construction and testing, the first Ford-class aircraft carrier and Zumwalt-class destroyer are finally joining the fleet. Programs for the Virginia-class submarine, Burke-class destroyer, San Antonio-class amphibious transport dock, and Littoral Combat Ship are all beginning new variants. The Columbia-class ballistic missile submarine (SSBN) is in development. And the Navy is fielding a host of new unmanned air, surface, and undersea vehicles and systems.
These changes come as the United States faces security challenges it has not encountered since the end of the Cold War. Great power competitors such as China and Russia improved their military capabilities over the last two decades and now appear willing to challenge the international order. They are likely to soon replace transnational terrorism as the primary concern of U.S. military planners. At the same time, regional powers Iran North Korea will continue to field capabilities acquired from great powers and exploit their advantageous locations to cause outsized effects.
The Navy should reevaluate the fleet's configuration before it misses the opportunities associated with this time of transition. Deterring increasingly capable great powers and countering more aggressive regional adversaries will take more than simply recapitalizing today's ships when they reach the end of their service lives. It will require new operational concepts, force packages, posture and basing, readiness cycles, and manned and unmanned platforms, as well as update sensors and weapons. The fleet architecture studies directed by the Congress in the 2016 NDAA were intended to address these needs for the fleet of 2030.