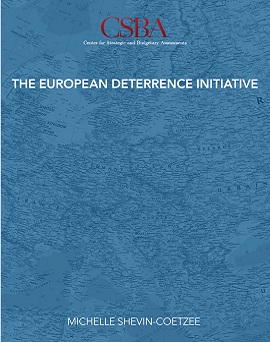 The European Deterrence Initiative by Michelle Shevin-Coetzee
Announced in June 2014, the EDI, or the European Reassurance Initiative (ERI) as it was known until early 2018, was designed as a rapid response to Russia's actions in Crimea and Eastern Ukraine. Four and a half years later, amidst a firestorm of presidential tweets and fractious international gatherings, the EDI continues to serve as a tangible example of the United States standing longside its European allies and partners. Since its inception, the EDI has grown steadily, receiving additional funding nearly each subsequent Fiscal Year (FY) to reach a peak request of just over $6.5 billion for FY 2019.
The U.S. European Deterrence Initiative is a crucial effort to strengthen European security. Despite its important work and the funding it currently enjoys, the United States cannot ignore the significant budgetary challenges to its implementation and sustainment. Addressing these concerns will require a concerted effort across the U.S. government, not simply within the Department of Defense, to support the European allies and partners whose security is linked to that of the United States.