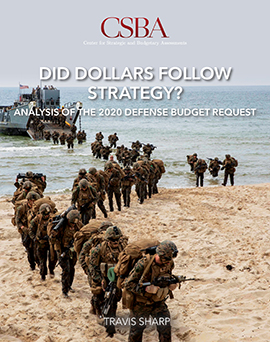 On 1 October, the U.S. federal government ushers in its Fiscal Year (FY) 2020. If policymakers approve the $738 billion national defense budget – the amount agreed to by the White House and Congressional leaders in a July 2019 agreement – military spending will have increased in real terms for the fifth consecutive year. At the same time, the July budget plan envisions a cut in inflation-adjusted spending in 2021, thus pausing a defense buildup that began in the Obama administration.
In a new CSBA study, Did Dollars Follow Strategy?, Research Fellow Travis Sharp delivers authoritative commentary on the FY 2020 budget plan and how its investment parameters conform to the requirements laid out in last year's National Defense Strategy. This report is the 35th in a series of annual budget analyses published by CSBA and its predecessor organization. Mr. Sharp analyzes top-line expenditures and provides critical context through force planning scenario and defense mission assessments.
Join the report author, Travis Sharp and other CSBA analysts and guests at 11:30 a.m. on 28 August as key findings from this report are previewed.
Sequence of Events:
11:30 a.m. Lunch reception
12:00 p.m. Presentation and Q&A
1:00 p.m. Conclusion
Mr. Sharp is available for interviews. For additional information on CSBA or to schedule interviews contact the Director of Development William Bodie at 301.767.6736 or bodie@csbaonline.org.