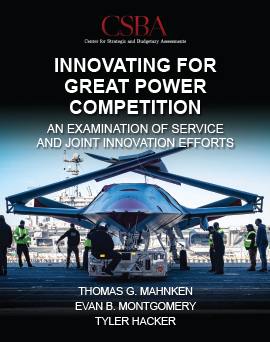 CSBA hosted a release webinar for its latest study, Innovating for Great Power Competition: An Examination of Service and Joint Innovation Efforts. The event featured remarks by the authors, CSBA President and CEO Dr. Thomas Mahnken, Director of Research and Studies Dr. Evan Montgomery, and Analyst Tyler Hacker.
In this publication, the authors explore how, following nearly two decades of counterinsurgency in the Greater Middle East, the United States Department of Defense finds itself looking to the Cold War for lessons on how to adapt to the operational challenges presented by China and Russia. To modernize its platforms, doctrine, and force structure to compete with and defeat 21st-century great power competitors, the military services and the Department of Defense as a whole are seeking to promote conceptual, organizational, and technological innovation within the U.S. armed forces.
The authors reflect upon the lessons from Cold War era innovation and find that several factors play a crucial role in innovation, including recognition of the threat environment, senior-leader sponsorship and support, innovators and their advocates and networks, and organizational culture. Additionally, military innovation typically occurs in three stages: speculation, experimentation, and implementation. Should these elements of innovation be missing or insufficient, failure can occur in any of these three stages, as well as during employment on the battlefield. These ingredients and phases combine to yield a framework for diagnosing innovation in historic and contemporary military organizations. The authors then apply this framework to contemporary innovation efforts in both the individual military services and the Department of Defense as a whole. The study examines the relative success of these innovation efforts and suggests four possible outcomes based on the pace of service-level innovation efforts compared to defense-wide innovation efforts. Finally, the authors offer potential operating options for each outcome.