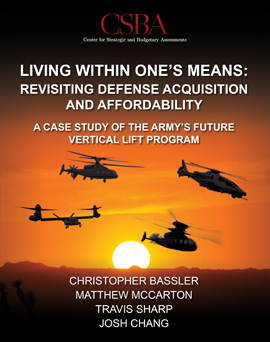 On Thursday, October 7, 2021, CSBA held a webinar discussion on the release of our new report, Living Within One's Means: Revisiting Defense Acquisition and Affordability, by Chris Bassler, Travis Sharp, Matthew McCarton, and Josh Chang,
The report examines the U.S. Army's FVL Program as a case study to consider affordability enhancements to major defense acquisition programs. The authors reviewed previous Army aviation programs, new manufacturing processes, and innovative program management approaches to determine how operations and sustainment savings can be achieved on major complex weapons platforms. The authors outline a series of recommendations designed to improve program cost estimating and performance, particularly in the areas of operations and sustainment and overall program lifecycle costs.

AGENDA
Introduction:
Dr. Thomas G. Mahnken, President and CEO, CSBA
Keynote Remarks:
GEN John "Mike" Murray, USA, Commanding General, Army Futures Command
Authors' Discussion:
Dr. Chris Bassler, Senior Fellow, CSBA
Dr. Travis Sharp, Fellow
Mr. Matthew McCarton, CSBA
Observations:
MG Walter Rugen, USA, Director, Future Vertical Lift Cross-Functional Team
Audience Q&A
We look forward to seeing you at this important and timely discussion.