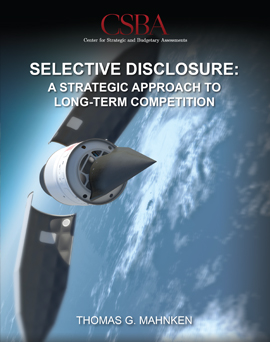 Join us on December 1 as CSBA President and CEO Dr. Thomas G. Mahnken will discuss CSBA's latest report, Selective Disclosure: A Strategic Approach to Long-Term Competition, with commentary from Christian Brose, Head of Strategy at Anduril Industries, and Dr. Jacquelyn Schneider of the Hoover Institution.
In Selective Disclosure, Dr. Mahnken argues that although the concept of Great Power Competition has been adopted as a central U.S. defense planning template, the Pentagon has yet to fully adapt its own processes and priorities to maximize U.S. advantages in this environment. As the United States invests in new defense technologies and concepts, policymakers should carefully consider which ones to withhold from public view during development, as well as which ones may be usefully revealed. Such "selective disclosure" can have a positive strategic effect, such as provoking competitors to expend resources on defensive countermeasures based upon an incomplete grasp of a perceived capability.
Dr. Mahnken outlines a new framework for revealing or concealing information for strategic effect in the contemporary strategic landscape. Drawing upon historical case studies, he illustrates three separate models for disclosing defense capabilities and considers the benefits and drawbacks of each approach. Finally, Mahnken proposes a series of criteria for applying selective disclosure in a period of rapid application of new defense technologies and concepts.
Download the new report and register to join us for a Webinar on December 1 for the discussion with Dr. Mahnken, moderated by Evan B. Montgomery, Director of Research and Studies at CSBA and with Discussants Christian Brose and Jacquelyn Schneider.
AGENDA:
11:30 – Introduction by Dr. Montgomery
11:40 – Remarks by Dr. Mahnken
12:00 – Discussant Observations
12:20 – Q&A
To arrange for an interview, contact William Bodie at bodie@csbaonline.org.