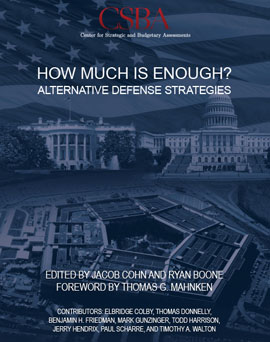 Twenty-five years after the end of the Cold War, the United States once again faces the need to prepare for great power competition and confrontation. Russian aggression along the eastern front of NATO presents military challenges to European security not seen in decades. China's military modernization and coercive behavior toward U.S. allies and partners threaten stability in the Asia-Pacific region. Both nations are disrupting an international order that has long provided relative peace and prosperity for the United States, its allies and partners, and much of the rest of the world.
With this context, the Center for Strategic and Budgetary Assessments (CSBA) convened groups of experts from The American Enterprise Institute (AEI), The Cato Institute, The Center for a New American Security (CNAS), The Center for Strategic and International Studies (CSIS), and CSBA to explore alternative defense strategies for a post-BCA world. CSBA asked the teams to answer three core questions without the burden of artificial constraints on defense spending:
What should American defense strategy be?
What capabilities, investments, and force structure might that strategy require?
What would such a military cost?
Their answers to these questions drive this report.