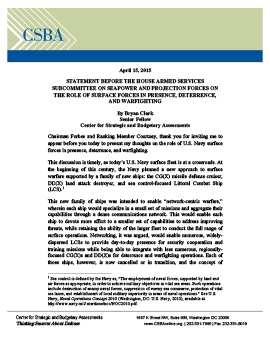 In this testimony before the House Armed Services Subcommittee on Seapower and Projection Forces, Bryan Clark argues that the Navy needs a new approach to surface warfare in light of new security challenges. Today's security environment is not as benign or stable as it was 15 years ago, when the Navy planned a "network-centric" approach to surface warfare supported by a family of new ships. Each of those ships is now cancelled or in transition, and the concept of network-centric warfare has been undermined by improving communications jamming and counter-targeting capabilities among potential U.S. adversaries. Moreover, the Navy's ability to achieve sea control is increasingly contested as sophisticated anti-access/area denial capabilities continue to improve and proliferate to U.S. rivals. As a series of key modernization decisions loom for the Navy in the coming year, the Navy has an opportunity to adapt its surface fleet to address these challenges. Clark argues that the Navy should use this opportunity to achieve two main objectives:
Restore the ability of surface combatants to gain and maintain access for the joint force through sea control; and
Sustain the ability of the surface fleet to provide a stabilizing presence and conduct security cooperation operations with allies and partners
Clark's testimony expounds upon this new approach to surface warfare, explaining the new concepts, procurement priorities, and cultural changes that would be necessary to implement it. Establishing a new overarching and unifying concept for surface warfare would enable surface force leaders to establish priorities and make choices in the face of fiscal constraints and external demands.