The heart of CSBA is its staff of uniquely qualified defense experts who conduct in-depth strategic and budgetary analyses.
Showing search results for "m"
Dave McCurdy
Board Member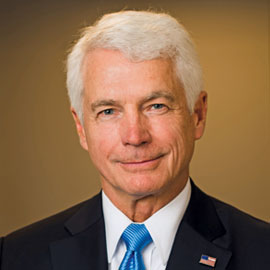 Dave McCurdy is currently President and CEO of the American Gas Association. He most recently served as President and CEO of the Alliance of Automobile Manufacturers, a trade association of car and light truck manufacturers including BMW Group, Chrysler Group LLC, Ford Motor Company, General Motors, Jaguar Land Rover, Mazda, Mercedes-Benz USA, Mitsubishi Motors, Porsche, Toyota and Volkswagen Group of America.
Mr. McCurdy came to the Alliance in 2007, after serving as President and CEO of the Electronics Industry Alliance (EIA) for eight years. In April of 2001, Mr. McCurdy co-founded the Internet Security Alliance as a non-profit collaboration between EIA and Carnegie Mellon University CyLab to enhance cyber security.
Mr. McCurdy spent 14 years (1981-1995) in the House of Representatives as the Member from the Fourth Congressional District of Oklahoma. He attained numerous leadership positions, including Chairman of the House Intelligence Committee; Chairman of the Military Installations and Facilities Subcommittee of the House Armed Services Committee; and Chairman of the Transportation Aviation and Materials Subcommittee of the Science and Space Committee. As a House Member, Congressman McCurdy played a major role in enacting the 1988 National Superconductivity Competitiveness Act; the 1985 Goldwater-Nichols Act, which reorganized the Department of Defense; the Nunn-McCurdy Amendment in 1982, requiring Congressional notification of Department of Defense cost overruns of 15% or more; and the 1993 National Service Legislation, which originated in a bill introduced by Congressman McCurdy and Senator Nunn.
In 2008, Secretary of Defense Robert Gates appointed Congressman McCurdy to the Defense Policy Board which provides the secretary with independent, informed advice and opinion concerning matters of defense policy. Mr. McCurdy was reappointed to the Defense Policy Board in 2009 by the Obama Administration.